---
Steve (talking to Mr. Creeper) - You know Mr Creeper they say and apple a day keeps the doctor away. But what if it really gave you like I don't know super powers. Then what would it be?
Mr. Creeper - Well Steve it would be a.... NOTCH APPLE

Steve - Wait a what? A Notch who? I though Notch was just some guy who made all of this. The god of our world. Now your saying he's really an apple. I'm confused.
Mr. Creeper - It's okay lets just say that being the great and powerful creator isn't enough when your Notch. So why not have his own apple to. Or well sort of as it really isn't his and it's actually called a Enchanted Apple.
Steve - Now hold on a sec how did he become an apple or an enchanted apple or whatever you say he is now or isn't. Oh forget it I'm confused. I just wanted to have an apple that would protect me not just feed me.
Mr. Creeper - Calm down Steve, calm down. Let me explain to you the Notch Apple as it has become affectionately known by those who visit our world daily. And I promise I'll keep it simple for you as today seems to be your Monday and your just not ready for an overload of information.
Steve - Oh okay I guess, but let me first grab an apple out of my pocket to eat while I listen.
(Rummaging through his pockets Steve brings out a red delicious apple and begins eating while listening intently to his explosive friend.)
Steve (through a mouth full of apple) - nokay go ahed and yell me bout did here Motch paple.
Mr. Creeper (sighs looking at his friend spewing apple bits as he talks and wonders why do I try) - Oh good so you know all about Apples that is clear. Now let me tell you about an enchanted apple. So Notch apples used to be crafted by placing an Apple on a Crafting table and surrounding it with blocks of gold. BUT...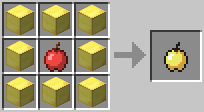 Steve - Really cool let me grab another apple and some of my gold and I'll have it ma...
Mr. Creeper - Hold on there Steve, it doesn't work like that. See you can't craft them anymore. Notch or some demigod changed that on you because why have life be too easy. However, they may still be found rarely in chests, mostly those deep down in the world's mineshafts. But hey you can get them...
Mr. Creeper (looking confused at Steve who is scratching his head looking at his crafting table apples and gold still not listening, shouts at Steve) - STEVE! Listen to me already you will get no where doing that so come on and pay attention.
Steve(confused and shocked that he was yelled at) - Oh sorry, I was to distracted and now I feel foolish. I really am sorry.
Mr. Creeper - it's okay, so anyways as I was saying you can't craft a Notch Apple anymore. you can only find them in chest and even then it's rare that you do.
Steve - ah okay that explains why nothing was working when I tired to craft one.
Mr. Creeper - So let me just tell you the advantages of the ever famous Notch Apple. See when you find one and are able to eat it well it gives you some really cool powers if you will. First how's about Absorption, or Regeneration. Still not enough then maybe you'd like to have Resistance and Fire Resistance. Yeah let that sink in.
Steve - So when do I head out to find one of these Golden gifts from the Minecraft God?
Mr. Creeper - Well Steve before you do you should know two things about the Notch Apple. First if you should encounter a Wither, this special little apple can easily mean the difference between victory and defeat.
Steve - A what? What is that?
Mr. Creeper (sighs again) - A Wither Steve, but that is another story altogether. For now lets just stick to the Notch Apple okay.
Steve - Fine, fine, fine. Whatever you say. Now what is the second thing you have to tell me that is so important?
Mr. Creeper. Well Steve the second thing is hissssss